Combining a knowledgeable team of Showroom Consultants with industry leading products, the Ensuite Bath & Kitchen Showrooms in British Columbia are a destination for homeowners, designers and professionals.
Reliable advice.
Product Knowledge.
Extensive inventory.
Tap into what makes us different from the rest.
In the world of plumbing fixtures, The Ensuite Bath & Kitchen Showrooms have made their mark through the talent of their advisory service, industry knowledge and well-established professionals.
Since the first Ensuite showroom opened in Prince George, BC in 1988, we have been a source of quality bath and kitchen products along with solid recommendations and reliable advice.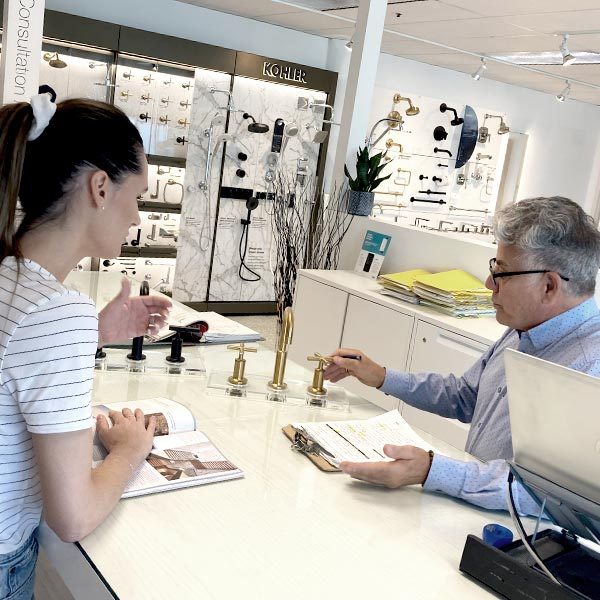 Personalized
Consultations
Not every project, person or space is the same. Our one-on-one consultations with experienced design and product experts help to guide you through product selection and recommendations based on preference and budget.
Our showrooms are designed to be immersive, showcasing products in real-life, contemporary environments allowing you to better visualize how products and fixtures will look in your own space.
Get a real idea of products and fixtures before you buy! Our showrooms display hundreds of products that you can visually inspect, feel and operate...making the buying decision even easier. You get a great idea of product quality and functionality before you ever get it home!
Many of our showrooms offer special events, product launches and design seminars offering you an inside look at the latest trends in home design, new and upcoming products and exclusive sales.
Discover. Explore. Experience.
Have a bath or kitchen project
in your future?
Find an Ensuite Bath & Kitchen Showroom closest to you and book some time with one of our skilled Showroom Consultants. Our industry experience and product knowledge are exactly what you need when it comes time to build or renovate your kitchen or bath.
Appointments can be made by phone, email or in person.
The Ensuite Bath & Kitchen Showrooms have been a proud part of the Emco family for over 35 years with 70+ locations across Canada.